MIRACLE MONDAYS – Illinithon President Jessica Gruen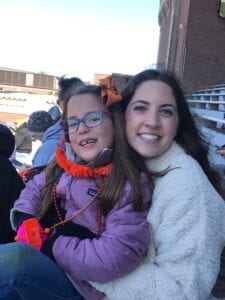 Who you are: My name is Jessica Gruen and I am currently a senior at the University of Illinois at Urbana-Champaign. I am the President of the University's Dance Marathon program, IlliniThon. IlliniThon is the largest student-led philanthropic organization at UIUC, and we are a year-long fundraising organization that supports our local Children's Miracle Network Hospital, St. John's.
What field you're going into: I am hoping to go into the pharmaceutical, or biotechnology industry after graduation. 
What inspired you to become part of Dance Marathon: As a freshman arriving to the large campus of the University of Illinois, I knew I wanted to be a part of something bigger than just myself. My older sister, Hannah, was a senior at UIUC at the time and was the Vice President of an amazing organization, IlliniThon. Hannah motivated me to become involved and join the leadership team my freshman year. Being able to see a group of college students come together with such positivity, upbeat energy, and dedicated efforts to unite for a cause bigger than ourselves, the kids, truly got me inspired to dedicate my time and efforts to this cause.  
Tell me about one or two kids/families that inspired you: The first Miracle Family story I heard my freshman year was Peyton Skrysak's story. I thought her story was so inspiring to hear as a first-year member, and was the first time I really began to understand what these kids and families go through. To hear Peyton's story and how her parents stood strong through the face of adversity, and that Peyton was truly a miracle due in part to the funds IlliniThon provides the hospital was so impactful. Peyton's story is what made me want to be a part of the organization for the rest of my college career to do my part in helping give kids more tomorrows. I am also really inspired by Kaydence Bosaw's story. I was able to spend time with Kaydence at multiple events this year, and got a lot closer to her. She was just so much fun to hang out with, as she always had a smile on her face and such a great personality. You wouldn't even be able to tell that she spent time in the NICU and faced multiple surgeries, and that continues to inspire me to want to be able to help make that possible for more children. 
What has been your favorite part of Dance Marathon? My favorite part has been being able to work with so many different student leaders throughout the past four years on a wide variety of projects, and events. Coming together with different students throughout the nation, on campus, within different committee focuses to work toward one cause was always a blast. I met some of my best friends in Dance Marathon, so being able to spend time with them while working for the kids that you all love is an experience that cannot be matched. 
What are a few of your favorite memories? One of my favorite memories is when I was able to plan the Big Event for our 2018-2019 year with the Internal VP. We had a great time planning it second semester and everything we were doing was brand new as we were in a new venue with our first ever daytime event. It was a blast to be expanding everything that we did that year to include more entertainment, new activities, rentals and make it our own. We would stay up some nights until the early morning as time would get away from us when we were planning the event together!
What field you're going into: I am hoping to go into the pharmaceutical, or biotechnology industry after graduation.