MIRACLE MONDAYS – Colin Kinkelaar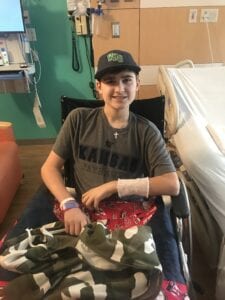 February 4th was a date that the Kinkelaar family will not soon forget. "
A friend at school called to inform us that our 16-year-old son Colin had been involved in a car accident," Kelly Kinkelaar said. "He had left the roadway and hit a guardrail head-on. When we first arrived at the scene of the accident we saw that the guardrail had gone through his driver's seat. We couldn't believe he was still alive."
Colin was admitted to the ER with a broken femur, broken tibia, broken hip & pelvis, 5 broken ribs and a broken hand. "Later we found out he suffered a stroke and required over 20 blood transfusions due to the loss of blood."
Colin spent seven days in a medically induced coma. "When he came out of the coma, he recognized us and said I love you which made us both cry with joy," said Jeremy, Colin's Dad.
In the month following the accident, Colin experienced 12 surgeries and ended up with an amputated right leg and metal rods and pins inserted in his femur. "He's healing," Jeremy said. "He knows how lucky he is. When he saw a picture of his car, he couldn't believe that he survived."
The Kinkelaar family received tremendous support from the community during this time. "Colin's hometown school and the surrounding communities expressed amazing support which helped our spirits. The hospital mailroom said the amount of mail Colin received broke their records…this kid is definitely loved by many!"
Today, Colin is still healing but doing well. He loves hunting, fishing, playing sports and cheering for the Kansas City Chiefs and the St. Louis Cardinals!
How does the Kinkelaar family feel about the support they received from St. John's? "We feel blessed to have received great care during our 5 weeks at St. John's! The teamwork between the various doctors and caregivers was outstanding. Megan from Child Life was one of our favorites! From the first responders to the all the medical personnel that were involved in his care, we'd like to say MANY THANKS for saving his life.  When Colin is ready, he'll definitely want to share his miracle story with others & pay it forward."
Do you have a miracle child that was treated as HSHS St. John's Children's Hospital? Facebook message us or email dave.newton@hshs.org and tell us your story! #miraclemondays